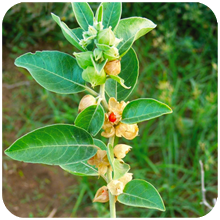 Withania somnifera, also known as Ashwagandha, Indian ginseng, is a plant of Solanaceae family. Several other species of the genus Withania are similar in morphology. It is used as a rasayana herb in Ayurvedic medicine. Withania somnifera is grown in many dry regions of India. This species is a short annual shrub, grows up to 35-75 centimeters in length. Branches are tomentose, extending radially from a central stalk. The flowers are small and green. The ripe fruit is red-orange. Roots are used for therapeutic purposes.
Chemical composition – Root contains alkaloids and steroidal lactones. Among the various alkaloids Withanine is the main component. The other alkaloids are somniferine, somnin, somniferinin, withananin pseudo-Whitanin, somatotropin, somatotropin pseudo 3-o-gloyloxytropan, choline, cuscohygrin, isopelletierin, anaferin and anahydrin. Contains steroidglukoside and sitoindoside sitoindoside VII and VIII.
Properties – Adaptogen, tonic, immunomodulatory, antistress, aphrodisiac, anti-aging, antimicrobial, antibacterial, antifungal, diuretic, antioxidant, antiinflammatory, antiaging, antihypertensive, hypocholesterolemic, strengthens nervous system, decreases healing time of wounds, improves concentration and mental ability, increases sperm quality, liver tonic, increases endurance and physical strength.
Recommendation – Chronic fatigue, dehydration, fibrous dysplasia (weak bones), rheumatism, tension and muscle atrophy, impotence, premature aging, debility, senility, constipation, memory problems, fatigue, nervous-neurodegenerative disorders, spermatorrhea, arthritis, inflammation, hypertension, anxiety, tuberculosis, Parkinson's disease, senile debility, diabetes, asthma, bronchitis sexual dysfunction.
This plant is incorporated in natural remedies ARTRISALM, ASHWAGANDHA RASAYAN TAB, LYON HEART, POTENT POWER, PRESSURE DOWN, SHECURE Syrup, SHECURE Tablets, SPIRULINA STAR.