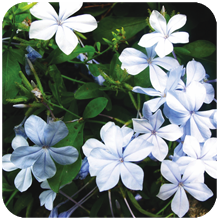 Plumbago zeylanica is an herbaceous plant with glabrous stem. The leaves are petiolate or sessile. The base attenuates at the time when the angles are acute, acuminate, or obtuse. Inflorescences are 3-15 cm in length and have glandular viscous rachis. Bracts are lanceolate and 7.3 × 1.2 mm in length. Heterostylos flowers have white corollas 17-33 mm in diameter and tubes 12.5-28 mm in length. The capsules are 7.5-8 mm long and containing seeds with reddish brown dark brown in color.
Chemical composition – Contains alkaloids, phenols and flavonoids. The roots contain plumbagin, naphthoquinones, naphthoquinones compound such as plumbagin, 3-biplumbagin, chloroplumbagine, chitranone, ellipton. Coumarins seseline 5-methoxyseseline, suberosine and xanthyletin. Other compounds include 2, 2-dimethyl-5-hydroxy-6-acetylchromen, ß-sitosterol, ß-sitosteryl-glucoside, bakuchiol 12-hydroxyisobakuchiol, saponaretine, isoorientin, isoafinetin, psorealen, plumbagin.
Properties – Gastric stimulant and apetizer, adaptogen, antitumor, antiseptic, anti-arthritic, antioxidant, gastroprotective, antihemorrhoidal, antiallergic, immunomodulator.
Recommendations – Liver, digestive, and skin disease, anorexia, rheumatic pain, leprosy, piles, cough and inflammation, gonorrhea, syphilis, tuberculosis, allergies.
This plant is incorporated in natural remedies GASCURE Syrup, GASCURE Tablets.