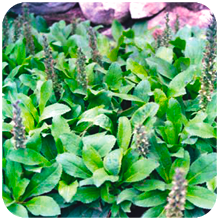 Picrorhiza kurroa is found in the Himalayan region of Kashmir and Sikkim, at an altitude of 2700-4500 meters. The leaves are 5-15 cm in length, all leaves on the base are often dry. The leaves are coarsely toothed, narrow towards the stem. Rhizomes are 15-25 cm long and are woody. The flowers are small, light blue or purple in color, supported on cylindrical spine. Spines appear on erect stems without leaves. The flowers are about 8 mm, 5-lobed at the middle, and with the stamen. The fruits are 1.3 cm in length.
Chemical composition – Contains D-mannitol, Kutkiol, Kutkisterol, apocyanine: phenol glucosides; Androsim and iridoide glycosides piceine; Kutkine, picroside I, II and III; Kutkoside, minecoside, picrorrhizine, arvenine etc..
Properties – Antioxidant, regulates levels of liver enzymes, supports a healthy immune system, detoxifier, digestive, laxative, cholagogue, and emmenagogue, emetic, sustains female urogenital system, improves lactation, stimulates appetite.
Recommendation – Jaundice, hepatitis, hepatotoxicity, anorexia, hepatomegaly, asthma, dyspnoea, cough, cold, skin problems, intestinal worms, alcohol toxicity, menorrhagia, urinary tract disorders.
This plant is incorporated in natural remedies LIVECOM Syrup, LIVECOM Tablets.