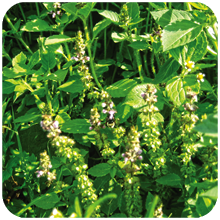 Ocimum sanctum is an aromatic plant who belongs to the family Lamiaceae which is native to the Indian subcontinent as cultivated throughout tropical Southeast Asia. It is an erect subshrub, multi branched, 30-60 cm tall with hairy stems and simple, opposite green or violet, fragrant leaves. Leaves have petioles, and are ovate, with to 5 cm height, usually slightly toothed. Flowers are purplish in spiral elongate racemes. Tulsi is cultivated for religious, medicinal as well as for essential oil. It is known throughout the Indian subcontinent as a medicinal plant and as an herbal tea, commonly used in Ayurveda. Leaves and aerial parts are used for therapeutic purposes.
Chemical composition – Contains volatile oil of various chemical compounds that include a-pinene, camphene, b-pinene, myrcene, limonene, cis-ocimene, camphor, linalool, methyl chavicol, y-terpineol, citronellol, geraniol, methyl cinnamate and eugenol. Contains anethole, beta-sitosterol, triterpenoid saponins and tannins. Seeds are rich in mucilage.
Properties – Analgesic, antidepressant, antispasmodic, anti-venomous, carminative, diaphoretic, digestive, emmenagog, expectorant, febrifuge, insecticide, nervine, stomachic, sudorific, tonic and stimulant.
Recommendation – Headache, bronchitis, coughs, gastrointestinal disorders, dyspepsia, flatulence, heartburn, abdominal cramps, fatigue, kidney disease, flu, stomach ulcers, fever, superinfected chronic ulcers, erosive stomatitis and balanitis, gonorrhea, leucorrhea etc..
This plant is incorporated in natural remedies COUGHEND Syrup, MEMO ON, WORM END Syrup.