Women are interested in what is related with the fashion trends including make-up and hair care. A healthy skin and shiny hair are the aspects that attract the attention of every woman, hence, everyone should pay some attention to skin and hair care. Regarding hair, women always choose "trends", means color and hairstyle, without taking into account whether they are appropriate, match to the clothing, accessories or eye color. Moreover, to achieve the desired color, women do not read carefully about the contents of labels of hair dye packs, which contain chemicals that may weaken the hair root and cause irritation in scalp.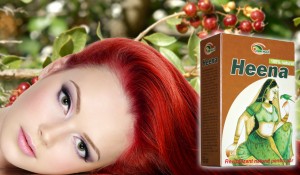 A natural alternative, moreover, a tonic and a revitalizer for hair and scalp is represented by a natural hair dye HEENA. HEENA is prepared from the leaves of Lawsonia inermis, a "composition" less likely to affect the hair and scalp. The followers of medicine Ayurveda and modern researchers have found that Application of Lawsonia inermis powder on hair helps strengthen the hair root and its moisture balance, the hair becomes stronger. Secondarily, it was found that the Lawsonia inermis "dye" hair in a shade of red color, and temporarily changes hair color.
The researchers found a molecule existing in Lawsonia inermis powder called "Lawsone" which has the effect of maintaining the health of the hair, strengthening it, making it easy to comb and handle, helping in moisturizing, providing shine and vitality, thereby maintaining hair health in general. HEENA acts by stimulating scalp blood circulation with a powerful revitalizing effect. Using a conventional hair dye, there exists a risk that the person may develop an allergic reaction to the chemicals contained in the dye and sometimes severe irritation or burns may also occur. HEENA powder being a natural hair dye, contains no chemical substances and by virtue of this, does not cause any harmful reaction like irritation or burns etc.
However, there are people who want to color hair in other shades other than red using HEENA powder. One of these colors is black. However, besides getting HEENA powder, people tend to add chemicals with it, which implicitly cause the situation in that that product no longer remains natural and may cause the risk of allergies, irritations etc. For this, there exists a natural solution for getting a darker shade to hair by adding a teaspoon of black tea or coffee with HEENA powder. Lawsonia inermis (Henna) is used in Ayurvedic medicine and in case of mild skin lesions, burns caused by hot liquids or flame due to its antiseptic, anti-inflammatory and soothing benefits and can be applied in case of migraines caused by prolonged exposure to the Sunrays.
Specialists of Star International Med created 100% natural product HEENA- a tonic & revitalizer for an optimum health of hair and scalp, containing Lawsonia inermis (Henna), along with other herbs (Eclipta alba, Emblica officinalis, Acacia concinna, Trigonella foenum graecum, Centella asiatica, Terminalia chebula), known in traditional Indian herbal medicine for their fortifying, antioxidant, stimulating (local blood circulation), nourishing and regenerating benefits on the scalp and hair.