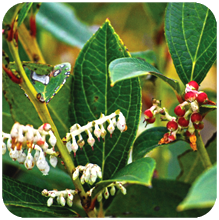 Gaultheria fragrantissima is a robust shrub with ovate-lanceshaped evergreen leaves, and with numerous spike-like clusters of small fragrant white or pink globular flowers. Flower clusters are 2.5-8 cm long, shorter than the leaves. Flowers are short-stalked, 4 x 3 mm wide. Leaves are pointed, 5-10 cm long, smooth above, margins are bristly-toothed. It is a branched shrub up to 1.75 m tall. Berries are 6 mm, with dark violet-blue fleshy pointed sepals. Fragrant Wintergreen is found in the Himalayas, from Uttarakhand to SE Tibet and Myanmar, at altitudes of 1500-2700 m. Flowering occurs in April-May.
Chemical composition – The essential oil is nearly 98% methyl salicylate (powerful analgesic). It may also contain contain triacontane, formaldehyde, gaultheriline and varies other aldehydes, ketones, and alcohols.
Properties – Powerful analgesic, antiseptic, emmenagogue, antibacterial, stimulant, anti-arthritic and anti-rheumatic, anti-spasmodic, dermoprotective, detoxifier, diuretic, stimulates proper blood circulation, maintains proper functioning of gall bladder, liver, kidneys, endocrinal glands, digestive system, excretory system natural emmenagogue.
Recommendation – Chronic rheumatism and arthritis, muscular pains, lower back pain, achy joints and inflammation, all kinds of spasms in the respiratory system, digestive system, nervous system, circulatory system and muscles, respiratory disorders like asthma, chest congestion, breathing problems and spasmodic coughs. Skin infections, bladder infections, hypertension, edema, obesity, irregular menstruation, uterine ulcers, dysmennorhea, blocked menses, pain in the pelvic region, hair fall, hemorrhages, fatigue, vomiting and stress related to menstruation.
This plant is incorporated in natural remedy NON DOLOR.