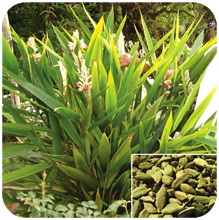 Elettaria Cardamomum (Cardamom) grows in the tropics, in plantations or wild, usually in partially deforested tropical areas, as it needs shadow. It is a perennial shrub with stems in the shape of the sheath, which have height between 2 and 5 m. It has a large rhizome and long, dark green leaves, 30-60 cm long and 5-15 cm wide. The flowers are white with purple veins. Seeds are green or brown to black, are found in a pod in three double rows of six seeds each. The pods are 5-20 mm long, the longest being the variety of black and green one is shortest. The rhizomes are planted at intervals of 3m. Cardamom is harvested in October-December, before ripening, in order to avoid bursting of capsules during drying.
Chemical composition – Contains limonene, linalool, citronellol, nerol, geraniol, a-pinene, sabinene, myrcene, a-phellandrene, limonene, 1,8-cineole, y-terpinene, p-cymene, terpinolene, linalool, linalyl acetate, terpinen 4-oil, a-terpineol, a-terpineol acetate, Citronellol, nerol, geraniol, methyl eugenol and trans-nerolidol.
Properties – Antiseptic, anti-inflammatory, aphrodisiac, appetizing, digestive, diuretic, antidepressant, tonic, calming (Gastric), nervous stimulant, detoxifying, antibacterial, antiviral.
Recommendations – Indigestion, nausea, vomiting and pulmonary problems with excess mucus production, abdominal pain, cramps and gas, acidity in the digestive system disorders, hypertension, bad breath, mouth and throat infections, colds, flues, bronchitis, blood clots in the arteries, erectile dysfunction and impotence.
This plant is incorporated in natural remedy HAPPY KID Syrup.