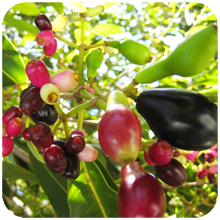 Syzygium cumini is a slow-growing tree, it can reach the heights up to 30 m and can live more than 100 years. The bark is rough and dark gray. The wood is water resistant. The leaves, which have a turpentine-like aroma, are pink at first and become bright dark green at maturity. Syzygium cumini trees start flowering from March to April. Fragrant flowers are small, about 5 mm in diameter. The fruits develop by May or June and resemble to large berries. The fruit is oblong, ovoid, starts green and turns pink to purple shiny black at maturity. Other type of tree bears white fruits. The fruit has a combination of sweet, sour and slightly astringent taste and gives purple color to the tongue when consumed.
Chemical composition – The leaves contain glycoside, acylated flavone, quercetin, myricetin, myricitin, triterpenoids, esters and carboxylic galloyl tannins.
Bark contains betulinic acid, friedelin, epi-friedelanol, β-sitosterol, eugenin and fatty acids, fatty acid esters of epi-friedelanol, β-sitosterol, quercetin, kaempferol, myricetin, gallic and ellagic acid bergenin, flavonoids and tannins.
Flowers contain kaempferol, quercetin, myricetin, isquercetin, dihydromyricetin, oleanolic acid, oleanolic acetyl, eugenol and eugenol-A-triterpenoide triterpenoide B.
Root contains glycosides flavonoids and 3-O-rutinoside of Isoorhamnetine.
Fruits contiain raffinose, glucose, fructose, citric acid, malic acid, gallic acid, anthocyanins (determines color of fruit) diglycoside cyanidin, and malvidin petunidin.
Essential oils isolated from leaves, stems, seeds, fruits contain α-pinene, camphene, β-pinene, myrcene, limonene, cis-ocimen, trans-ocimen, γ-terpinene, terpinolen, bornyl acetate, α-Copaee, β- caryophyllene, α- humulen, γ-cadinene and δ-cadinene, trans-ocimen, cis-ocimen, β-myrcene, α-terpineol, dihydro carville acetate, geranyl butyrate, valerate terpinyl, α-terpineol, β-caryophyllene, α -humulene, β-selinene, calacorene, α-muurolol, α-santalol, cis-farnesol, acids like lauric, myristic, palmitic, stearic, oleic, linoleic, malvalic, sterculic and vernolic.
Properties – Astringent, antioxidant, antidiabetic, antidiarrheal, apetizer gastroprotective, hepatoprotector, blood purifier, anti-ulcer, radioprotector, diuretic, stomachic, carminative, cardioprotective.
Recommendation – Diabetes, chronic diarrhea, dental problems, dysentery with blood, splenomegaly, cold, cough, fever, skin problems, infections of throat, intestines and genitourinary tract (infected by Candida albicans), hemorrhoids, gallstones, renal calculi, polyuria.
This plant is incorporated in natural remedy DAITAB.